Berlin's musical memory
Music library
Where in Berlin can you borrow CDs, sheet music and vinyl records, and stream music? At our music library, of course! Why not have a listen…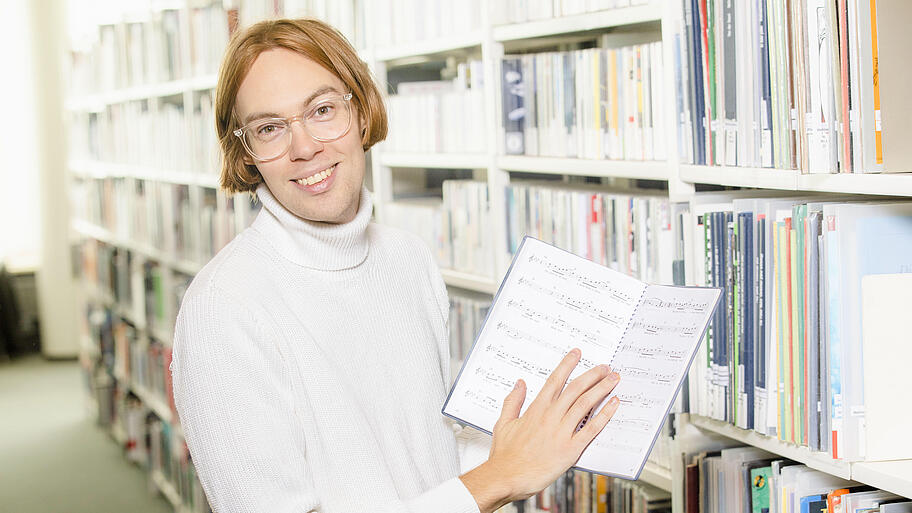 The music library not only loans and archives audio recordings or sheet music but also offers audiences unique listening experiences and events.

We have great sounds from all genres: from Hildegard von Bingen to Beethoven and Billie Eilish, from afro-beats to progressive rock and Carnatic music from southern India.

Our almost 300,000 pieces of sheet music, music books, CDs and records are complemented by a music streaming service. With our link collection, we connect Berlin's music scene.
Background knowledge and rarities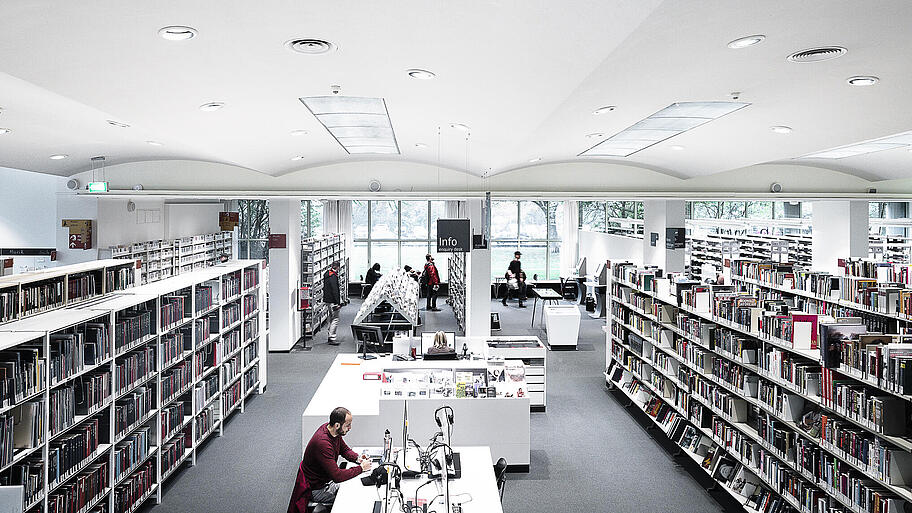 The ZLB's music library is one of Germany's most extensive music libraries. The public area and an information desk staffed by research experts can be found in the America Memorial Library (AGB). Further music media can be ordered from the AGB repository and the Berlin Public Library (BStB), as well as the external repository.
Borrowing and streaming
Almost all music media can be borrowed; we also offer devices for listening, copying or digitalising audio recordings. In addition, we subscribe to 65 current music magazines, and offer access to databases such as "Grove Music Online" or music streaming portals such as freegalmusic, medici.tv and all Naxos Music Libraries.
Unique listening experiences
One of the highlights of our offer is a catalogue of over 78,000 LPs that had been collected in East Berlin (BStB) and West Berlin (AGB) since the 1950s. Since the turn of the millennium, our vinyl catalogue has grown through sample copies provided by Berlin-based labels. Several thousand sheets of printed and handwritten sheet music as well as phonograph cylinders and shellac gramophone records are stored in two cabinets in the historic collections (BStB branch).

We also receive national and international enquiries related to our special USA-themed collection of 20th century compositions, which encompasses sheet music as well as records. Another unique feature is our extensive collection of bound sheet music copies of the entire oeuvre of certain composers, which can be borrowed.
Documentation role
As a state library, we are officially charged with documenting everything that is published in Berlin, and therefore receive copies of all audio recordings released by Berlin-based labels. Many of these are kept in our repository and can be ordered in the usual way via the catalogue. For technical reasons, it may not be possible to borrow some of these, although they can be ordered and listened to at the library. Such recordings are labelled "for reading room use only", or their location says "AGB repository / large-scale music collection - collection from the reservations service desk."
Impressions from the music library
©ZLB | Foto: Moritz Haase

©ZLB | Foto: Moritz Haase

©ZLB | Foto: Moritz Haase

©ZLB | Foto: Moritz Haase

©ZLB | Foto: Moritz Haase
Music library special offers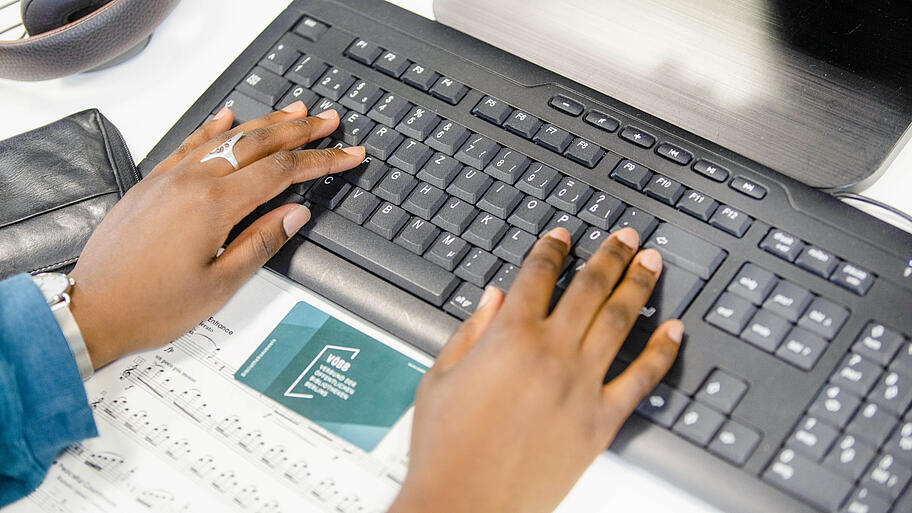 Music research
The German Music Information Centre (MIZ) has published a tutorial with tips on analogue or online searching for information about music, sheet music or audio recordings.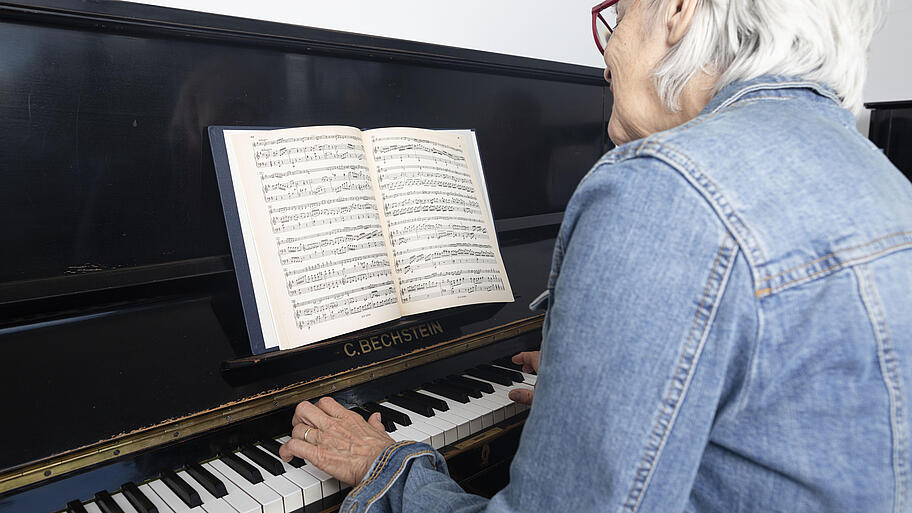 Piano room
One of our particularly popular offers is the piano room, which can be booked for a maximum of 55 minutes at a time per person per week. In this room, you can play on a Bechstein or a Steinway piano.
Questions and answers about the piano room
The piano room can be booked for 55 minutes per person per week.
The piano room can be found in the America Memorial Library in the audio area.
Time slots for the following week are always released Saturdays at 10:00 / 10 a.m.
Yes, a valid VÖBB library card is required to make a booking.
The key can be obtained from the information desk, where your library card will be kept until its return.
If you do not turn up, the reservation is cancelled after ten minutes. You are not entitled to a replacement booking.
Yes, please bring your booking number with you. We do not need a printed copy of your reservation.
Our security personnel need this time to open the windows, air the room, and close them again.
We will use your email address only to communicate with you within the scope of the booking you have made. For example, at the end of the booking process, we will send you a booking confirmation via email, or we will contact you via email if we need to make changes to your booking. Furthermore, we will automatically send you an email reminder 24 hours before the start of the booking. We also reserve the right to contact you in this way, if necessary, to inform you of any new circumstances / changes that may affect your reservation.
Link collection "Music in Berlin"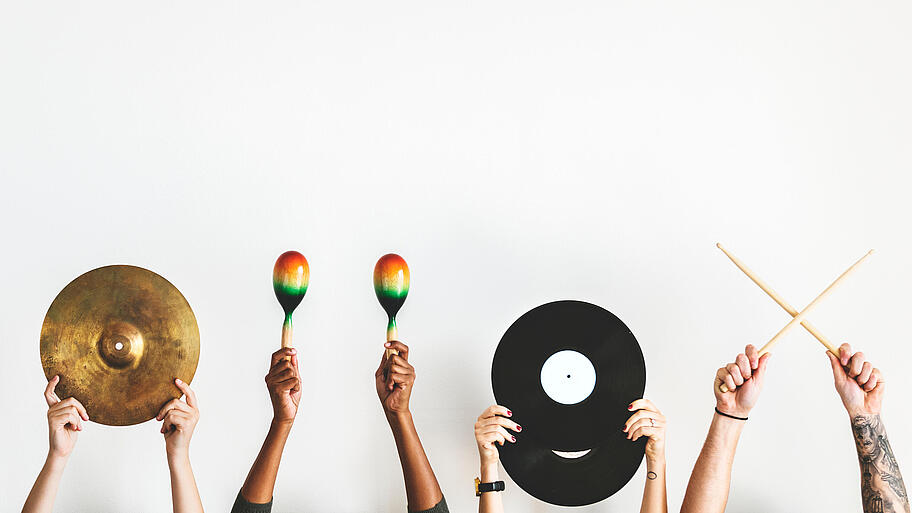 With far over 1,000 commented links, the ZLB's "Music in Berlin" link collection provides a structured overview of the music scene in Berlin. You will find agencies, bands, choirs, festivals, labels, orchestras or music academies, music forums and all kinds of other information related to Berlin's music industry there.
Go to link collection "Music in Berlin"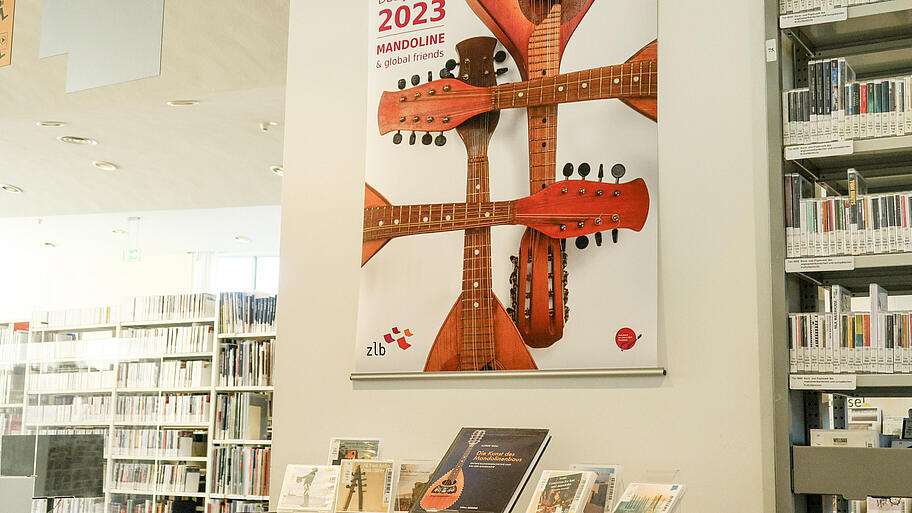 For special themes and occasions, our music editors regularly post curated playlists for you on the Freegal Music and Naxos Music Library portals. Here are some examples:
Collaboration with musica reanimata

Since 2012, the ZLB has cooperated with musica reanimata, an association dedicated to the rediscovery of composers who were persecuted by the Nazis, and their works. Each concert and discussion organised by musica reanimata is accompanied by a list of the works by the respective person the event focuses on that are in the ZLB's collection.
Collaboration with Jugend musiziert
Every year, we mark our collaboration with the Jugend musiziert competition organised by the Landesmusikrat Berlin with a concert performed by the competition winners.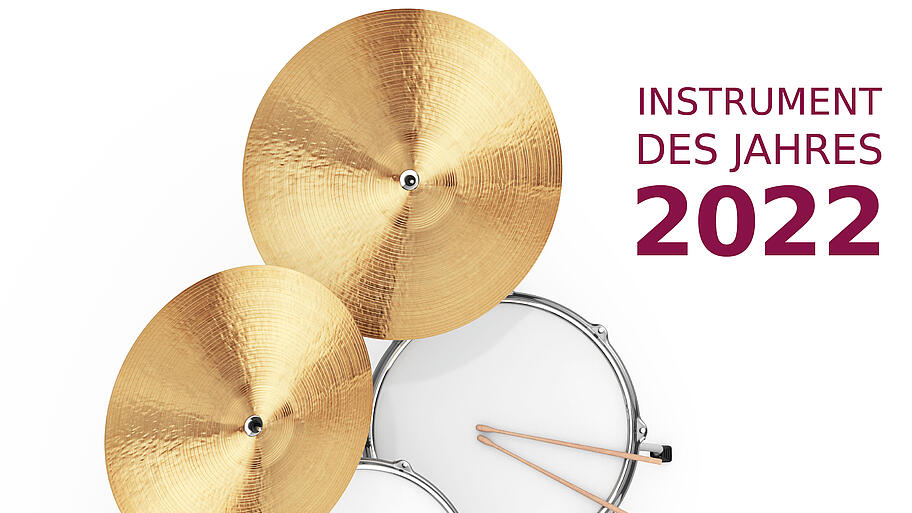 Every year, the Landesmusikrat Berlin nominates a new instrument as the "Instrument of the Year". We accompany the project with a media presentation, tips on catalogue items related to the topic and a concert to celebrate the "Instrument of the Year".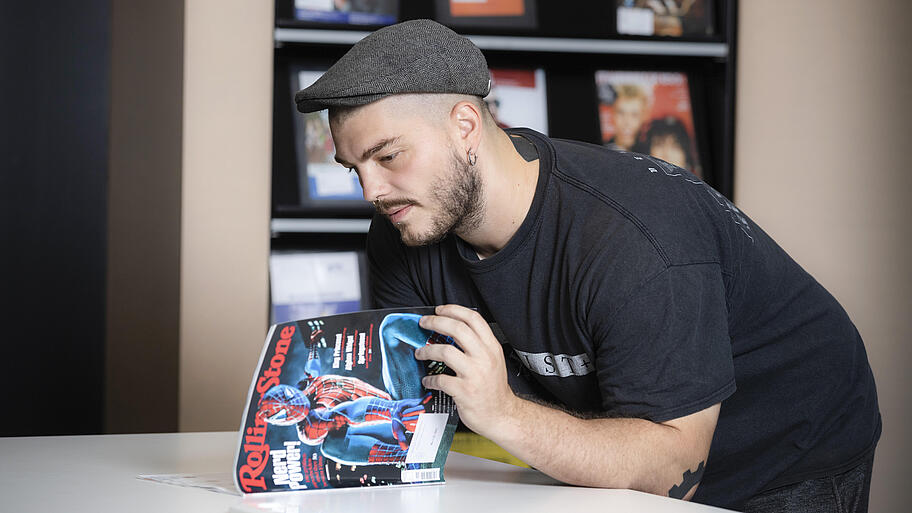 Spoilt for choice. We always offer you the latest issues of 65 music magazines, as well as digital magazine offers.